Your Building's Performance Metrics: Boost Efficiency & Comfort
June 13, 2017

Focusing on the performance metrics of your building's energy savings and comfort is powerful. Not only will you meet your clients' requests, but you'll establish your company as one that commands results. How can we help? At Scottsdale Shade & Light, we provide you with the information you'll need to make the best decisions for your project.
What Affects Performance?
Two of the most important factors that can boost the energy efficiency and comfort of your building are fabric choice and operating system. Together, we call this your "Shading System." We use Lutron's tool, The Performance Shading Advisor to choose the optimal shading system. This tool allows us to input project specifics to offer you the best combination to achieve the performance metrics you need. It also allows you to understand what results you'll see based on shading position–so you know just how important the operating system you choose will affect your building's performance.
The Three Elements You Need Most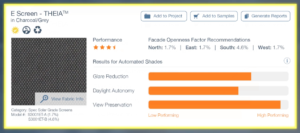 Many of your clients are looking for the same three results: Glare Reduction, Thermal Management and View Preservation. When we analyze your project specifics, we provide you with the optimal combination of fabric specifications to deliver the highest potential for those three elements. We generate a report to show the energy efficiency and comfort that's possible. Not only that, but Performance Shading Advisor is THEIA compliant. THEIA is a performance shade fabric specification that guarantees your openness factor, such as 1, 3, 5, and 10%, within .75% of the specification. Lutron is unique in this guarantee. This compliance strongly controls standards to provide the comfort and energy expectations of your building.
Performance Metrics: Prove It.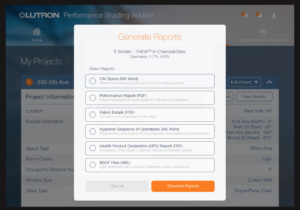 Do you remember when shades were considered part of the furnishings of a space? Over the years, we've realized how valuable they are to the efficiency of your buildings. They are capable of delivering performance metrics that will transform the space. In Arizona, you need to be able to prove intended results for energy savings and comfort. That's where we come in. At Scottsdale Shade & Light, we can set you up on the road to success. Let us help you add a value proposition to your clients by providing you with the optimal shading system to guarantee the "in demand" energy savings and comfort your clients are looking for. Contact Susan, at Scottsdale Shade & Light, to get started today!