Performance Shading Advisor: Optimize Comfort & Efficiency
June 13, 2017

Are you searching for ways to increase the cost savings, energy efficiency and comfort in your building design? We recommend the Performance Shading Advisor. A building's thermal management should depend on the science and expertise of this unique program. The Performance Shading Advisor, through Lutron, allows us to use the latest GPS technology to identify the perfect combination of factors to deliver an energy efficient environment, resulting in comfort and cost savings for your client. What's involved? Take a look.
We Start with the Right Tool.

The Performance Shading Advisor is a tool we use that allows us to enter the exact location of your building. From there, we enter vital information, based on your client's requested outcomes and unique needs. Our expertise, when added to this program, allows us to identify the product specifics that will help you achieve success.
What Results Do You Need?

With the right combination of shade fabrics and automation, specifically designed for your location, we can deliver incredible results. Which factors would you consider to be the most important? We use automated shadings to create an environment that features:
Glare Reduction

Temperature Control

Comfortable Daylighting

View Preservation

Beautiful Design
The Most Important Factors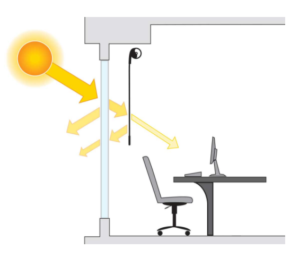 When considering the factors that achieve success, it has been proven that shade fabrics have a tremendous influence. The materials and opacity work together to provide an atmosphere that features glare reduction, thermal management, preserved views and aesthetic appeal. Automated control of those shadings will add valuable time and cost savings to thermal management and daylight autonomy of the building, allowing you to customize your client's building and its needs.
Performance Shading Advisor Delivers Results.
If you've been searching for ways to create the ideal environment in your client's building, we can help. Our team at Scottsdale Shade & Light uses the science and expertise of Performance Shading Advisor to customize the needs of your client's building. We specialize in optimizing the thermal management, energy efficiency and cost savings of buildings in Scottsdale, AZ and the surrounding areas. Contact Susan, at Scottsdale Shade & Light, to get started.